American Studies Association Annual Meeting and Conference
Articles, Articles, Essays, Interviews & Memoir
Presented November 17th, 2016 in Denver
PANEL: ENVIRONMENTAL RESISTANCE AND THE PERFORMANCE OF PLACE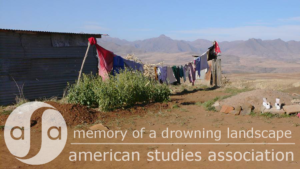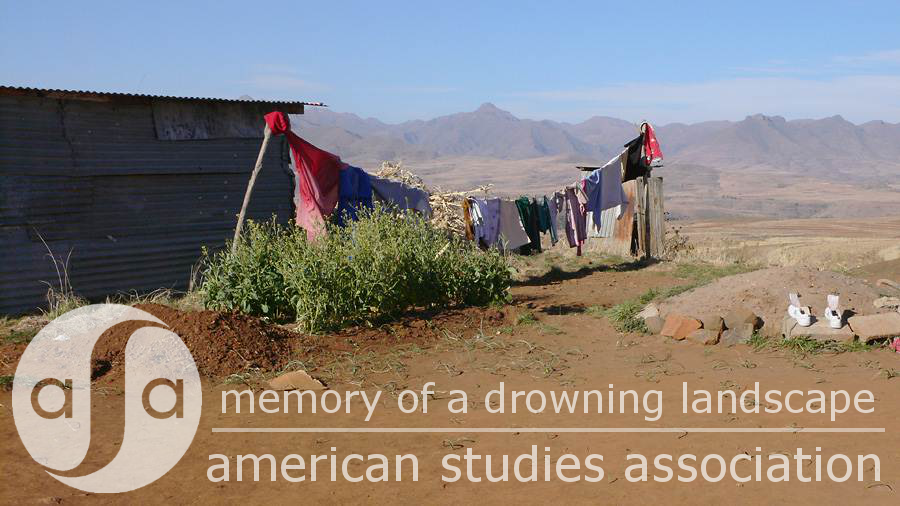 Memory of a Drowning Landscape: From Rural Performance to Global Resonance A Field Report on Phase One
What can we learn about environmental activism from a 14 kilometer stretch of flooded river valley in an obscure country in southern Africa ravaged by development, climate change and poverty? How might our habitual American tropes of "home" and "place" be positively refracted if we begin the inquiry from outside the Western imaginary in order to arrive at a radically different starting point once we've "returned"?
In March and April, 2016 the first phase of an experiment in performing the resonance of place began in Lesotho, southern Africa.  This phase of Memory of a Drowning Landscape attempted to articulate the global threat of climate change by looking at a specific instance of local loss.  The project used the phenomenological frame of performance to explore the intangible cultural heritage lost to communities visually, acoustically and orally along the flooded Phuthiatšana River valley in rural Lesotho – the end result of efforts to "cure" drought through the construction of the Metolong Dam.  This intangible cultural heritage included the community's "landscape map" which was irrevocably transformed once the flooding began and the mnemonic devices people relied on to "place" themselves vanished.
The challenge, as we continue the project, will be to discover ways of performing what still resonates by resisting easy illustration. In continued collaboration with upended communities, the project will pursue deeper, universally resonant metaphors of what might no longer be: patterns of pathways submerged under the flood; dialogues that ricochet and undulate between the valley's embankments – moving from harmony to dissonance as the water rises; embodied markers represented by flesh and bone instead of stones; whispered names of plants no longer seen. And, of course, we will continue to follow elaborate directions to places that aren't there.
In the coming year, in Africa, Memory of a Drowning Landscape will link its creation of intangible performance with the Metolong Mobile Museum Project's exhibit of the rescued remains of the valley's tangible heritage, augmenting the interactive public conversation around cultural ownership.  Upon returning to the U.S., the goal will be to use these performative discoveries to galvanize a re-imagined jumping off point among environmental artists/activists and to reframe the increasingly urgent dialogue over what constitutes "place" and what signifies "home."