Red Heads/ Red Tales
Articles, Essays, Interviews & Memoir
Working, organizing & living as reds in West Virginia, Ohio & New York City in the 1970s and 80s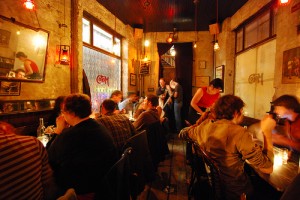 A montage of stories, scenes and vignettes, Redheads/Redtales is a group memoir written by Page Dougherty Delano, Ellen Geist and myself. The three of us first met in the late 1980s at a conference for activist artists in New York. We felt an immediate connection to each other and began getting together at a café on Washington Square Park to talk, share our writing and discuss politics. We discovered we had a lot of political language in common, along with a certain political outlook that resonated, but it took a couple of years of café meetings for us to confess our backgrounds in a far left Maoist political organization – the same far left Maoist political organization. How could it be we'd been members of the same revolutionary party without knowing each other?
Page's work with the organization was in the mid-70s in the coal fields of West Virginia organizing miners and their wives. Ellen was sent to the factories of Ohio in the late 70s to lead union struggles. And throughout the 1980s I'd been spreading the revolutionary word in New York City's projects and borderline neighborhoods like the South Bronx and East New York.
The idea of writing a group memoir came out of a conversation about what might be interesting to a larger audience about the kind of commitment and level of involvement the three of us had experienced. We realized there was something unique about our particular organization and our stories – unlike members of other groups, we were asked to abandon the class identity we were born into and to immerse ourselves in the working class or in Lenin's "real proletariat" instead, essentially leaving our previous identities behind.
We began writing pieces of our individual stories and to look for a venue to present the work in order to gauge the level of interest. Our first gig was at Barbe's café/club in Park Slope, Brooklyn. Forced to spontaneously come up with a name/title for the ad, we chose Red Heads/Red Tales – a double entendre, all three of us are red heads. Response to the Barbes reading was overwhelmingly enthusiastic, and since then we've continued to write and read new work. The full manuscript is almost complete – more sections will soon be available online